blog | 10.18.21
Asthma + Allergies: Fall Triggers to Watch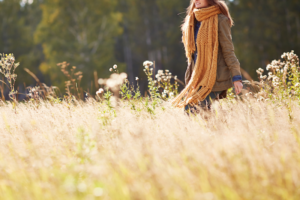 Fall can be full of pumpkin patches, homemade soups and apple picking – but it can also bring with it unexpected triggers that may worsen your allergies and asthma.
Some fall asthma triggers are common allergens (such as ragweed and mold) – but others are caused by cooler temperatures and seasonal activities, such as campfires and increased time outdoors.
Luckily, understanding what common triggers to watch for can help you to be best prepared. Here is a list of a few common triggers to be aware of this fall:
Ragweed. This fall-blooming weed produces allergy-triggering pollen. The website Pollen allows you to search by zip code to see a current and 5-day forecast allergy report of common allergies to help accurately track levels.
Mold. A common allergen, mold grows year-round – but it's most prevalent in the spring and fall. The best way to limit exposure to mold is by controlling your home environment. You can reduce moisture within your home by keeping windows closed and using a dehumidifier. You can also prevent exposure by using a filtered pillow, like Spry Pure, that prevents moisture and germs from accumulating on its interior.
Campfires. As you're sitting by the campfire roasting marshmallows for your s'mores, you could be making your asthma worse through smoke inhalation. The good news is you can limit the risk – while still enjoying your s'mores! – by avoiding getting too close to the fire. Stand the opposite direction of where the wind is blowing and limit your time fire-side to help minimize smoke inhalation.
Cold air. When we think of fall, we think crisp air and cooler temperatures – but the lower temperatures can also be a trigger for asthma and allergies. Cold air can constrict the airways, making it difficult to breathe. When you do go outside during the colder weather, try wrapping a scarf around your nose and mouth to help warm the air before you breathe it in.
Don't let these common triggers stop you from enjoying fall altogether! Simply being aware of the risks and making small changes to your lifestyle can help minimize the effects of asthma and allergy triggers.