blog | 11.16.20
Spry Partners with Barnes & Noble College
Spry Therapeutics is thrilled to announce that we have partnered with Barnes and Noble College to make our germ-blocking, filtered pillow available to nearly 800 college bookstores across the US.
Committed to Protecting Students
Spry Therapeutics is committed to working with schools everywhere to ensure a safe, clean living environment for students. Traditionally, students arrive on campus with their own pillows and make their bed upon mattresses that have been used by several students before them. Both the pillow and the mattress they sleep on are typically made with stitched seams and porous materials – allowing for countless germs to accumulate over time. Every time a student lays down on their bed, these germs are expelled into the air around their face. This is unsettling under normal circumstances, but in the midst of a pandemic, it carries significant health risks for students, their roommates and their families.
Spry's Filtered Pillow Solution
Spry Pure is the world's first and only filtered pillow that is designed to block all viruses, bacteria, mold, and other microbes from getting into its interior – allowing only clean air to pass through. Whether it's used on campus or at home, Spry Pure will offer both students and their families peace of mind knowing they are getting a truly clean night's sleep.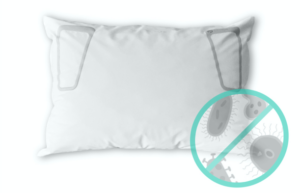 Our Spry Pure pillows will be available for purchase online through all BNC's affiliated school bookstores, in both queen and king varieties. Select colleges and universities include:
For those unaffiliated with a BNC bookstore, please visit sprytx.com for alternative purchasing options.