blog | 06.01.20
Hotel Bedding & the "New Normal" Post-Pandemic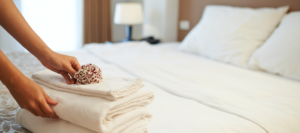 As the hospitality industry continues to adjust to the "new normal" with higher standards for cleanliness, brands across the hotel spectrum have launched their own programs, often with a medical institution or cleaning company partner involved.
Four Seasons is collaborating with Johns Hopkins Medicine International. Hilton is partnering with the maker of Lysol on its CleanStay initiative at its North American properties, and Extended Stay America has partnered with Procter & Gamble, maker of Spic and Span and Mr. Clean products, on its own cleaning initiative.
While these new initiatives are necessary in improving guest safety, one hotspot for contamination is still frequently overlooked: hotel bedding. While hard surfaces are easier to clean, soft-surfaces prove more difficult to address.
Existing hotel pillows – even those with protective slips – have countless pores and stitched seams, allowing them to absorb and expel pathogens with each use, putting both guests and staff members at risk for infection. According to inspections performed by Green Lodging News, the average age of a hotel pillow can be up to seven years old. Despite current protective measures and regular washing of pillowcases between guests, the core of the pillow remains a reservoir of contamination.
Spry Therapeutics' filter technology blocks all known viruses (including coronavirus), bacteria and other potentially harmful pathogens from entering the pillow's interior, preventing the accumulation and aerosolization of germs. Our filtered solution can be easily implemented, while reducing overall costs and improving sustainability. Furthermore, it enables hotels to provide their guests with a visual affirmation of cleaning standards and even offers them the option to self-sanitize the pillow upon arrival for added peace-of-mind.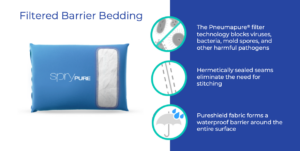 At Spry, we pride ourselves in offering a product that has been validated in the most critical environment – hospitals. Our Pneumapure® Filter Technology has been independently tested and proven effective in blocking the absorption and expulsion of harmful pathogens from the pillow's core.
Additionally, the initial results of an ongoing study conducted at North Shore University Hospital (part of Northwell Health System) have shown that at the end of a six-month period of active use involving all patient units and the ER, no bacteria was detected on the interiors of any Spry pillows tested.
Since the emergence of COVID-19, it has become abundantly clear that the benefits of Spry's Pneumapure® technology go far beyond hospitals walls – particularly as the country adjusts to the "new normal" post-pandemic. Now, by implementing our filter technology, hotels are able to provide guests with peace-of-mind, knowing that they're resting their head on a truly clean pillow.
As hotels continue to adjust cleaning protocols, programs like the new GBAC Star Certification are being implemented to ensure hotels use the proper chemicals, equipment and procedures to remove harmful pathogens. But in order to maintain guest comfort, confidence and safety, it is imperative they address bedding and other soft surfaces. We are confident that the hospitality industry will continue to prioritize the guest and look forward to offering a clean sleep solution as hotels settle into the "new normal" with higher standards for cleanliness.
Interested in learning more about how Spry can help reduce the spread of germs within your establishment? Contact us at [email protected].