news | 04.24.20
Even More Good News to Brighten Your Week
At the risk of being crass, this was a hell of a week and, frankly, we just wanted to share some good news with you. With so much happening so fast, it's easy to miss a lot of the good going on around us while trying to stay vigilant and safe from all the hazards coronavirus is throwing our way.
But it's important to take note of those good things — big and small — that show who we are as a county. Here are some good things that happened in Westchester this week.
Making Our Medical Supplies Last Longer
Spry Therapeutics, owned by local brothers Bill and Bob Purdy, develop bacteria and virus-resistant pillows for hospitals and, since the outset of COVID-19, have donated 10,000 units of their product to local hospitals and those across the country.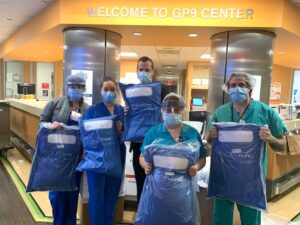 Automated Marking Inc. in Armonk is working with medical suppliers and manufacturers, among others, to improve supply chains and actually extend the shelf life of critically needed products.
Students and faculty from Iona Prep in New Rochelle generously donated to St. Joseph's Medical Center in Yonkers, which has quickly become due to population the locale with the highest number of COVID-19 cases in the county. Donations included 1,000 nitrile gloves, 200 plastic bibs, 30 sets of safety goggles, and 2,500 personal bottles of hand sanitizer, plus more than 75 pounds of food.
Mamaroneck's Statewide Abstract Insurance has so far donated more than 7,000 masks and other PPE items to Westchester County police departments.
Previous Best of Westchester winners Party Line Rentals has switched from setting up party tents to medical tents at COVID-19 testing sites, aiding the government in tracking and minimizing the spread of this disease.
Manhattanville College's visiting Assistant Professor Justin Capalbo, the son of a nurse currently caring for COVID-19 patients, found a novel approach to helping out healthcare workers by 3D printing components for more than 50 face shields with the campus' maker facilities. He's also organized the donation of about 600 autoclave bags for biohazard waste disposal, 1,000 nitrile gloves, 100 dispsable aprons, 30 N95 masks, and 100 bouffant caps.
Women's groups at the Wartburg senior care facility in Mount Vernon have likewise been sewing protective masks for direct care workers and essential staffers interacting with COVID-19 patients.
Even "man's best friend" is getting in on the giving, as The Animal Specialty Center of Yonkers donated N95 masks, gowns and other PPEs, and even three desperately needed ventilators to St. Joseph's Medical Center.
Read the full Westchester Magazine article here.